Timber Products
Carcassing Timber
Gower Timber keeps a comprehensive stock of imported softwood sections suitable for constructional use. Our extensive stock-holding ensures that we are able to keep an almost unrivalled specification to meet all applications be they roof timbers, joists, studwork or formwork.
Our in-house grading, treatment and machining facilities enables us to be able to deal with the most unusual requirements.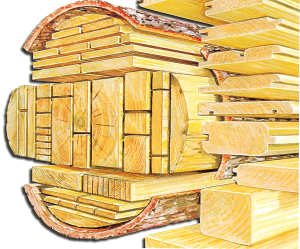 Extensive stocks
Long Lengths – up to 7.8m
Large Sections – up to 450x450mm
Graded Timber C16/C24
Firrings
Tilt-Fillets
Formwork timbers
Agricultural timbers
Treated timber
CLS
Chain of Custody
---
Strength Grading
As well huge stocks of strength graded kiln dried Carcassing and CLS (graded to BS4978 strength class C16 or C24), Gower Timber also has its own team of Certificated Visual Stress Graders, third party & CATG certified.
Sawing
Although we carry huge stocks of off the shelf sizes there will always be situations where specific non stock sizes are required. Our band resaw allow us to produce any timber size exactly to your specification, another simple, cost effective way of saving time and labour on site.
Machined Timber
We are proud to say that we only import prime softwood grades for our extensive range of mouldings.
Whether you require Architraves, Skirting's or Tongue and Groove panelling, we offer a huge range of machined products from stock. However, if you should have a specific requirement we are able to source it for you.
As Timber Merchants we have the experience and expertise to advise on and supply timber cladding, whether it may be from preservative treated Pine or from specially selected Cedar or Larch boards.
Also available to order are many different types fixings, adhesives, sealants, treatments and finishes to compliment our range of architectural and decorative mouldings.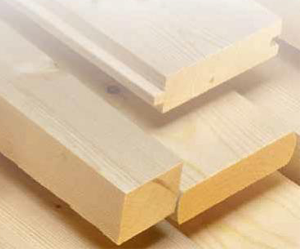 Huge range of stock profiles
Skirtings, Architraves, Handrails
Door Lining Sets
Softwood and Hardwood Mouldings
Cedar Matching and Shiplap
Wide range of cladding profiles
Timber and MDF mouldings
---
We ensure that all our stock is sourced from only the best mills, where we can be confident that what we deliver to you will be of consistent, excellent quality, every time. We fully endorse the requirements of our FSC ® and PEFC chain of custody schemes, to ensure that where possible our timber is legally and sustainably sourced. FSC ® certified products are available on request.
Whatever you're looking for, we can help. We stock a wide range of timber products, from Whitewood Carcassing sections to Stair Materials.
Clears & Specialist Softwoods
As timber becomes recognised as the only truly sustainable building product, an increasing number of architects and specifiers are detailing timber as a cladding material. We are able to supply a variety of specialist softwoods including Cedar, Larch, Douglas Fir and Southern Yellow Pine to a range of either sawn or machined profiles. We are also able to supply Heat Treated timber or Thermowood which has been specially treated to change the chemical structure of the wood making the timber more durable and stable.
Hardwood
As well as being softwood specialists we also offer a hardwood merchant service for sawn and machined hardwoods. American White Oak, Ash and Sapele are our most popular hardwoods, and are available in a wide range of sizes, we are able to source almost any requirement - whatever your requirement we will endeavour to source the best timber to suit your needs.
Hardwood offers a rich, natural surface with excellent durability and natural resistance to weather. Hardwood is used in a number of applications. We can advise on the suitability of particular hardwoods for individual uses.
A wider range of responsibly sourced, quality hardwood is available to order.