About Us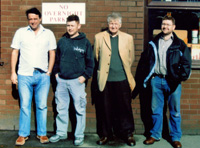 Gower Timber Ltd is a family run company which has been trading since March 1982 set up by the late Byron Jones, Carlo Deias and Byron's wife Elizabeth. Today it is still run by Carlo along with Byron & Elizabeth's son's Daniel Pugh Jones and David Rees Jones who currently employ 15 local people of which 10 of them have been working for the company for more than ten years.
The company has built a successful and sustainable business based on customer service and expansive knowledge of the timber industry. We are established and recognised suppliers to many National Construction Companies, Local Authorities, Local Builders, the DIY trade and the General Public throughout South Wales. The company's core business is Importing Sawn Carcassing Timber and is the only company in Swansea specialising in Baulk Timbers of 300x300mm and up to 9 metre lengths. We have our own onsite visual strength graders who can grade timber to BS4978 and we can re-saw timber up to 9 metres in our Saw Mill.
Gower Timber are also stockists of various Machined Timber i.e. Skirting's, Architraves etc. and Sheet Materials i.e. Plywood, Chipboard etc. All our timber can be treated onsite in our Treatment Plant which is a Water based Protim Solignumn product which is for use in Above Ground situations i.e. Timber Joists, Window Frames etc. If timbers are needed for contact with the ground or to be submersed in water they need to be tantalised which a contractor has to treat the timber on our behalf.
In 2004 Gower Timber acquired a building with yard space adjacent to us and we have expanded in to the Builder's Supplies market in which we are supplying Concrete Blocks, Cement, Sand and Aggregate's. To deliver these products the company has had to invest in a Lorry with a Crane to off load the products safely.